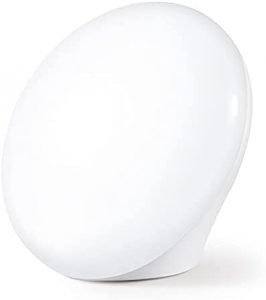 It isn't often that I do reviews of lamps, but the Light Therapy Lamp from LASTAR is some kind of a special case. This is a glare-free sunlight lamp to provide natural sunlight at 6500K.
I have to admit that I'm not really sure the LASTAR Light Therapy Lamp in the proper manner. It feels very bright when I turn it on, and I can adjust it for three different settings.
I am using it right now, and I have to admit, it does create an interesting effect. This is hopefully better shown on the video below, but I have to admit that it is probably not good to look at it. In other words, keep this light shining over your shoulder, just like the sun.
Without seeing the video, then you might think the LASTAR Light Therapy Lamp is some kind of spotlight. It is actually 5.3 x 4.7 x 2.0 inches, so it is very compact and light.
My only complaint is the touch controls are not instinctive. So when you want to just reach over and turn it off, you might accidentally hit the brighten button.
Now, I couldn't really find this guy on a main website, but I did find it on Amazon for a price of $25.99.