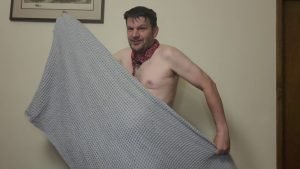 Okay, I realize that I normally review gadgets on website, which usually translates into consumer electronics. I realize that reviewing a Bath Towel. Well, I think I remember from The Hitchhiker's Guide to the Galaxy that the towel is one of the most handy tools in the entire universe, right?
Well, the MP Magic Egyptian Cotton Bath Towel is something, and it is made of Egyptian cotton. I am told that it this is the best and most expensive cotton in the world. I've heard Egyptian cotton mentioned proudly in two films: The Incredibles and Uptown Girls. I'm sure you know the former, but honestly, I'd be surprised if anyone remembers Uptown Girls.
I'm going to guess that this waffle-like pattern helps with some serious absorbency. Now, this Giza 86 cottons is supposed to be very soft, but honestly, it isn't really what I was expecting. Maybe I just want velvet all over me, but that just isn't happening.
Well, I'm not certain what else that I can say about this towel, but if you want more information about it, you can find out about it on the Kickstarter site.