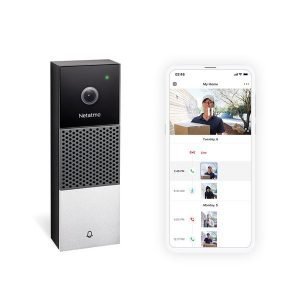 So, it has been a while since we reviewed a Netatmo product, and the last time I called it "Part 3", perhaps because I assumed there would be a Part 4. Well, I honestly think franchises usually get bad at a fourth part, so maybe I'll just start over.
Speaking of starting over, you might want to start at the end of this article by watching the video and enjoying the unboxing. Yeah, this is one of those reviews that I promised some kind of follow-up, but I couldn't do it, and I will explain why.
So, in case you need to know what is going on, the Netatmo Smart Video Doorbell is one of those doorbells that has a camera in it, so you can see who is at the door. Connected to the application, you can view your visitors from a mobile device, and you can even speak to them. It works like a video call.
Oh yes, you will also get a real-time alert, and the app allows to view your calls and events. There is even an included microSD card (about 16 GB) to keep your videos on hold.
If you are concerned about bad weather, then you should know that it is entirely weatherproof. It even has some great night vision and such.
So, now it is time to talk about my real-world experience. In the video, I talked about this thing attached to it being a battery, but it is something to connect to the chime in your house. The actual Smart Video Doorbell is wired in to your wall, and I couldn't get it to work.
I'm pretty certain that I know that problem, as you have to use 2.4 GHz frequency, and my router uses 5.0. I honestly don't know how to alter it on my router, and I didn't exactly get much from the company.
So yes, I'm not holding it against the company that I couldn't get this to work. I've had some bad luck with Smart Doorbells, like when I reviewed two Bosma products. I hope that goes better this time around, as I am reviewing a camera next week.
If you are looking to try out the Smart Video Doorbell, head on over to the Netatmo website and pay $299.99 for it.