Introduction (Does It Do What It Should)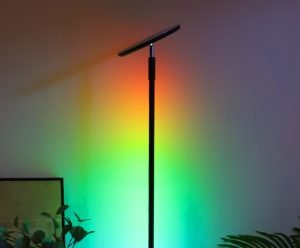 So, I received this Smart Floor Lamp from OUTON, and I have not from this company ever before. It certainly seems like a company that I might review from again.
I show on the video an unboxing of this, and you can see that there is a flat light on top, and you can shift the angle there. Then there is this RGB light column, which I just found out the name of.
I was hoping that I could get some footage of me assembling this S1 Smart Floor Lamp, but it wasn't exactly a snap-together type of model. No, I had to screw it together, and I don't really know how to do that speed-up the film like my wife was able to do when I reviewed that trampoline a while back.
It was both easy and difficult to put this together. Once you have the main shaft/tube assembled, you need to insert the RGB tube in it, not to mention the wire to plug it in. It is actually more complicated to do it rather than describe it, and I don't think I did either. If you are assembling this now, and happen to be reading this, I recommend inserting the RGB column as you are assembling the stand, simultaneously inserting the cord.
There is also these two connectors that are very small that join the wired to the flat light on top. I never thought that I had a good connection, but since I got it working, I guess I did. I think I had these two connectors together once, and then it just came loose for no reasons. Again, I'm probably not describing this very well, and completely forgot to address this on the video.
So yes, that is two strikes against this product, and sadly, there is a third. I had an issue when using the app, and didn't really have time to look too deep in it, as it seems what the instructions thought I would see was not what I saw.
Hey, just because this product has three strikes against it (given by me, who might not be the most reliable umpire), but I think this S1 Smart Floor Lamp should be in everyone's home. It is definitely something that just gives atmosphere to a room, as well as giving light precisely where you need it. I actually just used it on one of my reviews, but I haven't posted that one just yet.
Facts About The Company
I did a search for "OUTON Smart Floor Lamp", and couldn't find a website for this company. I then just did a search for "OUTON" and found a site that makes a lot of lighting products, and I figured: "score". I checked out the "About Us", and they are big on the quality electronic products along with some eco-friendliness as well.
What Does This Company Make?
They sure have quite a bit going on with toasters, coffee makers, and other home and kitchen products. Oh, there is also a collection of string lights and more.
Just the Specs, Man
If you're the type that needs this info, this section is for you!
There was a spec sheet on the Indiegogo site, which was pretty much the only place that I could find this product at. Yeah, this is pretty new, and I'm told it was on display at CES 2023.
Power Input: 110-120V 60Hz US/CA
220-240V 50 EZ EU/UK
Power Consumption: Uplight 30W with RGB Strip 15W
Brightness and Color Temperature: Uplight 3000lm, 2700K-6500K
Size: 250 x 250 x 1800 mm
If there is something on this that I didn't cover, please let me know.
What Do the Reviews Say?
If this is the one on the Amazon link below, it has a solid 4.7 out of 5, and this is out of 2,837 ratings. I can't see what it is on Indiegogo, and I'm not certain the one I found on the OUTON site is the S1, even though I don't see any reviews for it.
Okay, Get To The Unboxing Already!
Okay, I Like It, Just Give Me The Link So I Can Buy It Already!
I think this is it right here:
Maybe I Want It, But Is There Anything Else Like It? Maybe For A Lower Price? Please?
Honestly, I think that Amazon link that I gave above might be the lower priced one, assuming that it isn't the exact same model.