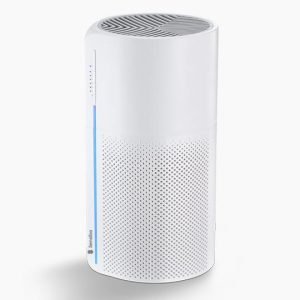 For some reason, I have been seeing a lot of purifiers hit the market. It's almost as if something happened last year that could have increased the market. Okay, I hate that joke, but let's look at Sensibo, a company who makes a lot of interesting products like the Sky Air Conditioner controller.
The Sensibo Pure is one heck of a product and reminds me of a jet engine. It has this cool HEPA filter, which can prevent the spread of airborne bacterial and viral organisms. Apparently, it uses brownian motion to capture these small particles, which I am told is the erratic movement of molecules in a fluid.
The Sensibo Pure will filter particles small as 0.1 micrometer, which is 100 times thinner than a human hair. I am told that it will work in a range of 173 square feet, so it can cover a lot of space.
I am told that this thing will filter out bad odors, but I don't feel like doing a test on that. What am I suppose to do to get a room to smell bad real fast?
So, there is a smart quality to this guy as well, and there is an app so you can "set and forget it". It will work with Alexa, Google Assistant, and you can add it to Siri as well.
If this is the type of protection that you want, you can get it on the Sensibo site for $129. Granted that is a reduced price from $199, and it gets cheaper with the more Sensibo Pure units that you purchase.