Introduction (Does It Do What It Should)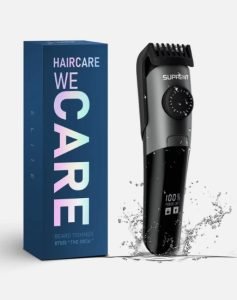 Well, it is not often that I find myself reviewing shavers, so when I had the chance to check out this one, I jumped at the opportunity. This is "The Orca", and it is a beard trimmer.
Yeah, I'm not the type who is trying to be trimmed, but you can see the video of me removing my beard. Granted, it isn't enough to shave it completely off, as I would need a BIC safety razer and some shaving cream for that.
Still, I like having this USB-C trimmer, and it has 90 minute of runtime when fully charged. Oh, I forgot to mention how it has an LED display that tells you how much battery life you have. That is very awesome, honestly.
I should also let you know that "The Orca" (I have no idea why the company puts it in quotes" is designed with the highest IPX7 waterproof rating. So if you want to use it in the shower with some shaving cream, you can go for it. It looks like you can even dip it in the water.
You can see in the video how there is a dial that can be turned to adjust the settings from 0.5 to 10 mm. So if you don't want to shave off this hair-fuzz like I did, you can just give it a trim.
The blades are ultra-sharp, which means you can cut more beard, and the motor powers some thick hair.
Facts About The Company
SUPRENT is specializing in haircare appliances since 2015. They believe that every product should be developed perfectly adapted to the hair and just right for the purpose.
What Does This Company Make?
Well, with all of this great stuff about hair care products, they just make hair clippers, beard trimmers, and grooming tools.
Just the Specs, Man
If you're the type that needs this info, this section is for you!
I don't really have any specs from the website, but it has a 500mAh Li-ion, 1 hour of charging time, and 1.5 hours of running time.
If there is something on this that I didn't cover, please let me know.
What Do the Reviews Say?
So far, there are three reviews on the company website, and they are all 5-stars. As far as Amazon is concerned, it is good for 163 reviews at 4.1 average.
Okay, Get To The Unboxing Already!
Okay, I Like It, Just Give Me The Link So I Can Buy It Already!
Maybe I Want It, But Is There Anything Else Like It? Maybe For A Lower Price? Please?
Dude, the last razer that I reviewed was back in 2014. I'm pretty certain that this razer probably isn't being made anymore.