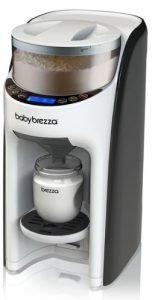 I have to admit that I have never reviewed a device like this, but I can't imagine why someone hasn't invented something like the Baby Brezza Formula Pro Advanced before. I have three kids, and they are past the formula stage, and it is a real pain.
I mean, I found that it was handy to make a bottle beforehand, and then keep it in the fridge while the tyke is taking a nap. Then, after he or she wakes up, start water boiling while you change his/her diaper. Eventually, when the water boils, you kind of roll the bottle around in the hot water, and test it on your arm later with that squirt trick.
Yeah, this is a whole thing, so why not get a "Mr. Coffee for Baby Formula". That's a quote from my wife, and I think it summarizes the Baby Brezza Formula Pro Advanced perfectly.
What you do is shovel in some of the baby formula powder up on top in an airtight container, and then it mixes it with the water in the removable water tank. By the way, you can use this to dispense water as well.
But hey, what you really want is something that can dispense some formula, and you can make a perfect bottle that is heated to the proper temperature. You can choose from room temperature, body temperature, and warmer than body temperature. There is a tray underneath to adjust for your bottle's height as well. It can dispense one ounce at a time, or between 2-10 ounces at once.
I think that the Baby Brezza Formula Pro Advanced is pretty terrific for new parents using formula, and would recommend it. You can get the Baby Brezza Formula Pro Advanced on the Baby Brezza site for $199.99.