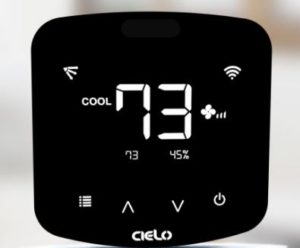 I have no idea what to call these types of devices, but I always want to say "Nest-like". You know, these are devices that you can use to control your home's temperature. So it is with great pleasure that I give you the Cielo Breez Plus.
The purpose of such devices is to keep control of your temperature, and it can be used with Wi-Fi. By the way, this works without Wi-Fi, which seems to be a huge feature and selling point of this. It is quite easy to take control of the temperature using an application known as Cielo Home from the Apple App store or Google Play.
With this application, you can not only adjust the temperature of the home, but set schedules, apply locations controls, and check usage history. This can be done via wired connection as well as through a 5V adapter.
All in all, it is a pretty great "smart thermostat", and I believe that is the best descriptor that I can give for a product such as this. It can be purchased on the Cielo site for $149, or at a special price (which might have expired after you read this) of $119.