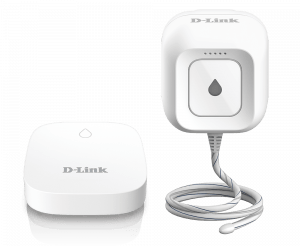 Ah, water. It can be a great source of life, but if it is seen in places where it is not wanted, then it becomes a real nuisance. So if you have a crevice or other place in your house where you don't want a water leak, then I will recommend the D-Link Water Leak Sensor Starter Kit, or DCH-S162KT.
The D-Link DCH-S162KT is designed to connect to your Wi-Fi router, with now separate hub or anything. All you need to do is plug it into your wall, you can use the extendable cable as a water detector for whatever area your plug is over.
It is pretty simple as you just need to download the MyDLink app, and then add on the device to the central area. If there is even a trickle of water underneath that plug, you will get an alert.
Oh, there is also a long-range sensor included in the D-Link Water Leak Sensor Starter Kit, and you can connect up to 16 sensors to this guy. So yes, you will have an app for you, and there is a strobe LED for a visual alert to.
If you want this particular D-Link product, head on over to the D-Link Shop and pay $79,99 for the Whole Home Smart Wi-Fi Water Leak Sensor Kit (DCH-S1621KT).