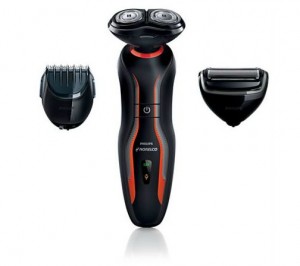 It isn't often that I get to review electronic razors, but I did leap at the chance to review the Philips Norelco Click&Style, and I believe that it is just one word.
I suppose that the biggest feature of the Click&Style is the fact that you can just quickly click on and off the razor, beard trimmer, or bodygroom. Since this is a product made for men, then you know how much we just love that clickity-click action, like Legos and gun accessories.
There is a lot to like about the Click&Style, like the 40 minutes of cordless power after a 1-hour charge. This is good, because I happen to have an old razor that you can charge for like an hour for 5 minutes worth of use. Who needs that? In this case, you can do a 5-minute charge for several minutes of running time, which is good if you are like running late or something. By the way, it has a good battery low light.
I highly recommend going to the website where you can see one of the most intricate interaction that I have ever seen. I'll try and describe it, but when you scroll down, you can see the guy shave himself. He gets some good stubble and serious manscaping going on. Don't worry, it pixelates the guy's "junk", but it does show how it is possible to get rid of any hair that you want. By the way, this Click&Style is completely water-resistant.
If his is something that you want to get for yourself or as a gift, head on over to the Philips Store and pay about $69.99 for it. As of this writing, it can be purchased for a promotional price of $59.99, so get on it now.