We've reviewed some items in the past from Simplehuman- including a rechargeable liquid sensor pump. This item that we're reviewing today is similar, but different. This sensor pump is for foam soaps.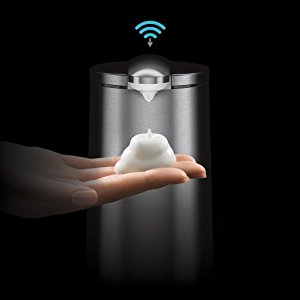 The stainless brushed steel is very elegant looking for a bathroom or kitchen. It actually comes in a variety of finishes. You can get brushed, polished, rose gold, and even Mickey Mouse(for an extra $10). The dispenser is rechargeable and will last up to three months on one charge.
The little disc pictured there is how it charges. The orange button pops out cartridges, which are easy to insert as well. It's good to have the ability to turn it off if you aren't going to be using it a lot during a certain time.
When the lid is down on top, the dispenser is waterproof, so you can easily clean it by running it under water.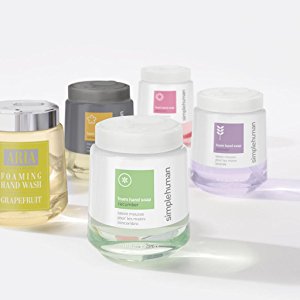 The package comes with an included 10 oz. cartridge of foaming hand wash. The one we received was lavender, although there are other scents you can buy like cucumber, spring water, mandarin orange, fragrance free, and many more. You can get a single cartridge for $7, or save and get a 6 pack for $30.  There are also other brands of soap you can buy like EO, which is made with pure essential oil. The soap can be used for hands or dishes. You can get a six pack of the EO on the Simple Human site for $40. Amazon.com runs $72.90 for a similar six pack. Not sure why there is such a difference. There are more expensive brands as well.
The dispenser retails for $50 on the Simplehuman site (the price is $20 cheaper than the one we reviewed about four years ago). It's a great little gadget for those who don't want to push down on a pump. There's also a 2 year warranty, so make sure to register your product!
Simplehuman was nice enough to send us this product for free to review in exchange for an unbiased, fair review.