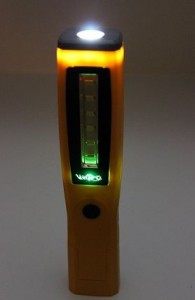 I had a chance to work with Concord Keystone Trading with their VidaDoo products, and I am now reviewing…a flashlight. Okay, its official title is Portable LED Work Light, and even though most would call it a flashlight, it is so much more.
This is a flashlight that you charge using the included AC Adaptor. It has a work-light on the side and then a flashlight on the top. It takes about 6-8 hours to fully recharge, but the work light is good for 6 hours and the flashlight good for 12.
This is definitely made for work. The Portable LED Work Light has 2 hooks that flip out so you can hang it from some place. If there is no place to hang it, you might be able use the 180 degree adjustable swivel equipped magnets.
All in all, it is a quite fancy product, and you can get it on the VidaDoo site for about $68.00.