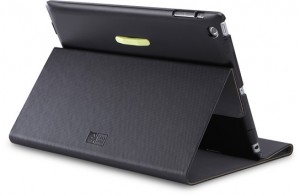 Okay, I had a terrific chance to try out some other Case Logic products, and one of them is for the iPad Air and the other is a lens case for smartphones.
I'll start with the Rotating Folio for the iPad Air. I will let you know that yes, there are several products like this, so I will tell you what is unique about it. I chose the image of it because it has that dash-shaped thing that is a different color than the rest of it. That is the locking mechanism of this, and I can't tell if it is magnetic or not.
Then there is the ability to rotate for portrait and landscape viewing, and yes, I have seen this feature before. I also have seen its magnetic wake and sleep functionality.
Anyway, if you like this, you can get it on the Case Logic site for $49.99.
This next product is something that I have never seen before, a smartphone lens case. I realize that the Olloclip and similar products are pretty popular, so I guess it is really just a matter of time before someone made a product to accommodate it.
It is a zipper-pocket with some padded areas to keep your smartphone lenses safe. There isn't really any way to keep this handy, as it is like a glasses case or something. If it is possible to make it into a keychain, maybe.
You should be able to get the Smartphone Lens Case on the Case Logic Site for $19.99.