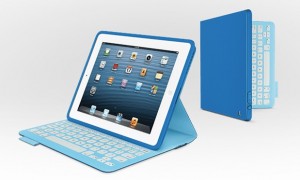 I have never been disappointed with a Logitech product, even if they are producing accessories that have been done to death. Their most recent contribution is the FabricSkin keyboard folio.
I think we all know that these folios work with tablets. I'm not certain how the one on the Surface works, but usually it teams up via Bluetooth.
That is the case here, but the FabricSkin comes with a liquid repellant surface so that there are no openings on the keys to let in any fluid in.
If you want to get this for the iPad 2 and up, as well as the iPad Mini, you will have to wait until May. The price is for $149, about $50 more than the standard cover.