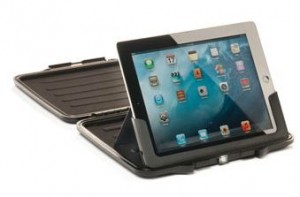 If are not familiar with Pelican, they make all kinds of products from cases to flashlights, made to survive very harsh conditions. I had a chance to try out two of their products, the i1065 HardBack Case and CE2180 Vault Series Tablet Case.
The i1065 HardBack Case is built to protect the iPad 2, 3, and 4, and it seals Apple's favorite tablet within a watertight gasket. I will say that this latch is easy enough to open, yet strong enough to keep it shut. What I don't really understand is that there is an automatic purge valve, which "keeps water and dust out while balancing air pressure". I have no idea how that technology works.
In addition to the i1065 providing more than ample protection for the iPad, there is an "integrated easel" which allows the user to use the i1065 as a folio type of case, perfect for watching videos. Now if there was only a Bluetooth keyboard. You can find out more on the Pelican site here, and this site here has a price of about $79.95.
As for the CE2180 Vault Series Tablet Case, this is made for the iPad Air and provides non-airtight protection. Yeah, it might not be as much as the i1065, but it does provide protection against dust, and some water (not full immersion). The CE2180 also meets military specifications from shock and drop.
In short, the CE2180 is made for day to day protection, and it also has another feature with balanced sound porting providing crisp audio. It does have an option for multiple viewing angle, but it is really just leaning the cover at a certain angle. It isn't like a folio case. You can find out more on the Pelican website here, and find it on Amazon for about $87.56.