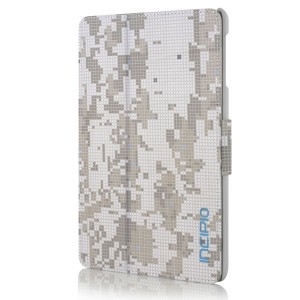 This has been a week of interesting reviews of iPad and iPad mini products this week, and it helps to have Incipio send me some of their latest.
The Lexington has a rigid Plextonium frame and an interior microsuede lining. Now there is an interesting flap with rubberband that allows you to prop up the iPad Mini at an angle for use.
Another interesting feature is more of an aesthetic, really. It has sort of a techno-camoflague thing going on. You can find it on the Incipio site for about $39.99 in many designs.