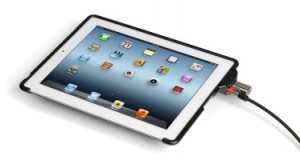 I have reported on Kensington's products before, most recently, the Hard Shell iPad Keyboard. I highly recommend Kensington for many occasions, as I have one of their laptop locks on my laptop, just to make sure it doesn't get stolen when I work in a public place like a library or coffee shop.
Kensington's SecureBack is made for protecting in iPad in the same conditions as listed in the previous paragraph. The SecureBack disassembles in three pieces, and one of them is a tab that keeps the other two pieces in place. There is a chain that reminds me of an old bike lock, and you use a key to lock it into place. Just to let you know, I tried using the key on my other Kensington lock, and it was not compatible. This means that Kensington uses different keys for their products, and this is a very good thing.
In addition to the security and protection that it gives your iPad that it needs, there is a sound deflector that can increase the volume of the iPad speakers. Of course, if you need this security, then you probably won't be able to play your music without headphones. However, if you are a shopkeeper and need an iPad out in front, and want an increase in volume this is a good thing. Also, it will make certain that your company iPad won't get stolen.
By the way, if you want to use Apple's Smart Cover with this, you can do that. In short, there are a lot of benefits to the SecureBack Case, and you can get it on the Kensington site for about $79.99.