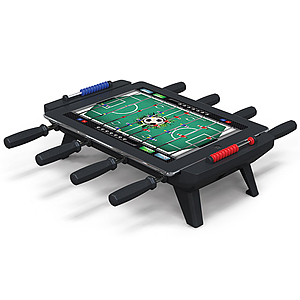 These days, just about anything can be done on a smartphone or tablet. So why not Foosball?
I can see the appeal. After all, when I was a kid, I remember trying to make a miniature Foosball table after enjoying the game during middle school lunch times. So, I was pleased to try out New Potato's Classic Match Foosball for the iPad.
Just to let you know, some assembly is required. You rest the iPad on the accessory and it syncs with Bluetooth almost automatically. You have to snap on the table legs and the "spinners", and then you can start a Foosball thanks to the free app. If you are alone, you can even set up the computer for solo play.
Now, how does it compare to real Foosball? Well, I will have to say that the miniaturized version isn't as action-packed as actual Foosball. You know how you can get your fists around those Foosball spinners and make some really cool shots? Here, you are spinning these with your fingers.
At least the play is similar to actual Foosball. Remember how the ball used to just be out of reach. It happens here too. You can hit the ball with a finger swipe to knock it back in play. I do like the scoring abacuses and if you can't afford a Foosball table or the space for a Foosball table, this is an acceptable alternative.
All in all, there is a lot you can do with the New Potato Classic Match Foosball table for the iPad, and you can get it for about $59.95 here.