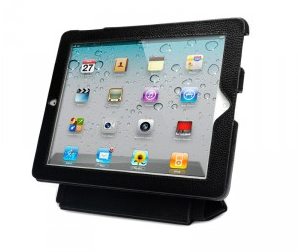 One of the problems with being a reviewer of tech products is that so many products look alike that it is often hard to review a product without falling in the same conventions. In the case of an iPad case, is there a different way of telling you that it can do portrait and landscape mode?
Let's just say that the answer is no, but I do like the style of the Orion Leather MapiCase. You know how you have a Smart Cover that can fold up nicely behind the iPad? This is interesting because you can flip the folded-up part around for view in portrait and landscape mode. It is very, very neat, and it has the same magnetic enclosures as Apple's patented Smart Cover.
Another neat thing is the leather, and it is high quality. Oddly enough, it is pretty light, but I am not certain how MapiCases did that one.
All in all, the Orion Leather case is what you would be wearing if you were trying to dress up your iPad for dinner at the White House. You can get it on the MapiCases site for about $160.