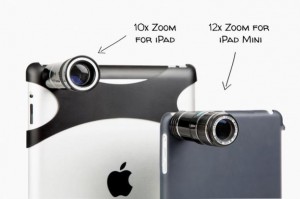 I think we all know that the cameras on our tablets just are not that good sometimes, especially if we are trying to focus on something. Generally, it usually takes a somewhat blurry photo and make it even blurrier.
Also, is the tablet really made for taking photos? It really is quite big to point and click, but the iPad telephoto lens from Photojojo (not to be confused with Mojo Jojo from The Powerpuff Girls) could really make the iPad or iPad mini downright useful for photography.
As you can see in the image, The iPad telephoto lens gives a 10x Zoom for the iPad 3 and 4, while it is good for 12x for the iPad Mini. Of course, you will have to use the snap-on back cover for the iPad, which means your current cover might have to take a holiday if you are using the iPad to take pictures.
You should be able to get it at the Photojojo site for $24.