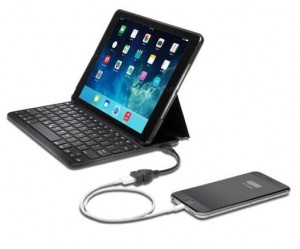 I had this chance to try out this other Kensington keyboard with the KeyFolio Thin X3 for the iPad Air 2, and I have to admit, I can do more with it than I thought. Sure, it is a keyboard for the iPad Air 2, but it is also much more.
What is interesting is how you can use the KeyFolio Thin X3 on the go as a battery for a mobile device. The keyboard has a 1650 mAh battery to charge something and it includes a special USB cable for it.
Then there is the QuickFold design to hide the keyboard so you can open it, and bam, it is on. As long as the iPad Air 2 is leaning up on the magnetic stand, it will be on. If it is folded up, it is off, pure and simple, so battery life is conserved.
As for the keyboard itself, it has 6 rows of scissor keys and a whole lot of terrific shortcut keys. If this is something that you want to get, it can be purchased on the Kensington site for about $99.99.