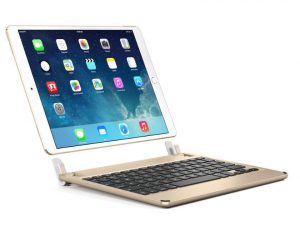 If you are the owner of an iPad Pro 10.5, iPad Pro 9.7 , or iPad Pro 12.9, this product will help turn your device quickly and easily into a laptop. This could be good news if you are a writer like us and need a little versatility in your tools. We've reviewed the 12.9 and the 9.7 in the past, and we were fortunate to receive the 10.5 in exchange for an honest, unbiased review.
The Brydge is a keyboard designed to fit the iPad Pro. It slips in the patented hinge, and gives you the option to view your iPad at all different angles from 0 degrees to 180. Well, you might not be able to view your iPad when it's closed, but you get the idea. It's easy to attach, and also easy to remove when you don't need to use the keyboard and want to use your iPad as a huge camera.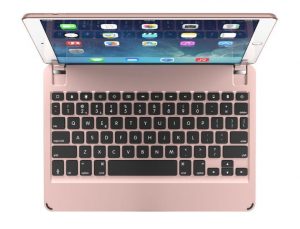 The keyboard has a great feature of back-lit keys, and there are 3 different degrees of brightness on those keys, so you can choose the level you need. The aluminum body also is amazingly light weight- making the combo lighter than a MacBook. The battery life lasts up to 12 months (2 hours per day) depending on backlight usage.
You can purchase the 10.5 keyboard on the Brydge site for $139.99 at this time. It comes in Space Grey, Silver, Gold and Rose Gold so you can match it with the color of your iPad.