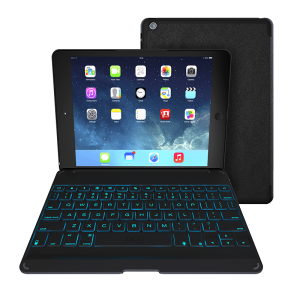 I have reviewed several keyboard from ZAGG, and they are definitely a company that makes some quality products. I've had nothing but good things to say about the Rugged Folio and the Slim Book Ultra-Slim Tablet Keyboard and Detachable Case. So is there any change to this one?
Well, I am not certain if it has better protection than the Rugged, but the fact that it can fold down and protect the iPad Air's screen is good. You can bend it backwards so it can go 135 degrees, for multiple angles.
The good news is ZAGG claims that the Folio is "one of the thinnest available, which means it won't take up too much space in your backpack. The cover has a leather feel to it, and it feels pretty classy.
By the way, the keyboard has 30 percent more typing area that the competition, However, there is a lot of space above and below the QWERTY keyboard. Oh, by the way, the keys are backlit, so you can type in the dark or something. The backlit keys lead to the question of the battery, it is good for three months in between charges.
So, if you are looking to get a Folio case for the iPad Air, head on over to the ZAGG site and lay down $99.99 for it. I believe that I will be reviewing more ZAGG products in March, so stay tuned.