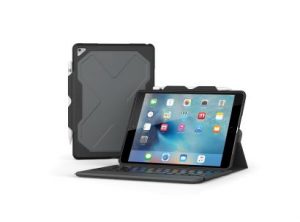 It has been a few months since I have reviewed a ZAGG product, and I will have to say that I always look forward to it. This particular brand not only makes the popular Invisible Shield, but it also makes some decent headphones with iFrogz. Today's review will focus on a wireless keyboard and durable, detachable case with the Rugged Messenger.
ZAGG Rugged Messenger for Apple 10.5-inch iPad Pro
I will have to admit that I am not certain if this is a Folio Case, but that usually implies a keyboard and case that fold up together, like this Rugged Messenger. It certainly has that back that can fold up, and then magnetically lock in place so you can view it in landscape mode only.
What you can't see here is how the case is detachable, and this is also done with magnets. I found that the keyboard and case locked together incredibly well, and yet it is still easily detachable.
Speaking of things that are strong, I should discuss the case itself. It has some tough polycarbonate construction, and it can withstand drops of 6.6 feet. I find that the case has this big "X" on it that would make it feel home in an X-men film. For some reason, I say that a lot about cases.
As far as the keyboard is concerned, it is easy to pair and you can toggle it between two devices. It has a laptop keyboard so the keys are spaced out, and it also has a backlit with blue light or six other colors.
You should be able to purchase the Rugged Messenger on the ZAGG site for $99.99.
ZAGG Rugged Messenger for the iPad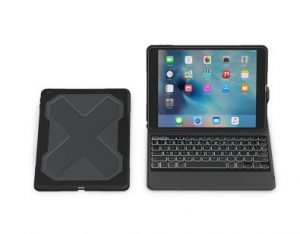 Okay, I am just going to say it, but there isn't really anything different from this particular Rugged Messenger for the iPad than the one for the iPad Pro. Oh yeah, it is a little bit smaller, and I probably should have mentioned that the one for the iPad Pro has a holder for the apple Pencil.
So, yeah, I don't mean to be lazy, but if I wrote about it, it would be just getting repetitive. You can purchase this Rugged Messenger on the ZAGG site for the same price of $99.99.