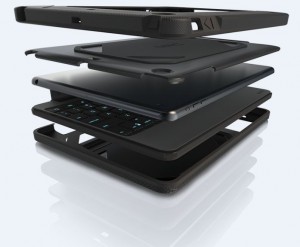 Some of you might be looking at the image from this and think it is some sort of deconstruction of a new sandwich at McDonalds. Let me assure you that this is the Rugged Folio for the iPad Air from ZAGG, a company that I have covered more than just once.
The Rugged Folio has a wireless Bluetooth keyboard, along with a tough polycarbonate shell and a soft silicone interior. I have a video afterwards that shows how it works in its four multi-function modes. It has a case mode, for when you take the iPad out on the road, book mode, for when you keep the case and keyboard and case together for hand-held reading mode, keyboard mode, providing backlit keys for a large typing area, and video mode holding the iPad securely at about any angle.
I think what really makes this Folio case unique is how the hinge can just come off and on again. You should be able to purchase the Rugged Folio keyboard for about $139 for the iPad, and $149 for the iPad Air.