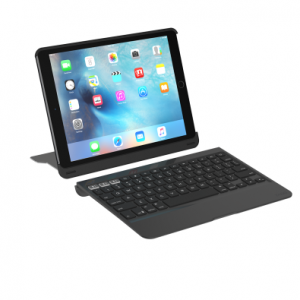 Well, this is going to be the second keyboard for the iPad that we will be reviewing this week in our ZAGG week. I'm going to start with the Slim Book Pro, specifically for the iPad 9.7 inch iPad Pro.
At first when I saw that Slim Book Pro (one of several products that have been sent to me for review), I thought that I was looking at your typical Folio Case. You know, one of the keyboards that folds up to protect the iPad, which we have all seen before. To my surprise, the Slim Book Pro has a keyboard that is detachable.
In other words, you can detach the keyboard from the iPad, and you will still have a good stand for yourself. It comes in handy for when you are typing, and you can put your favorite tablet somewhere else. How handy is that? The answer is pretty darn handy, for sure, especially when the keypad and case lock together magnetically.
By the way, the stand for the iPad is made for many viewing angles. The keypad itself also has a kickstand in case you want it that way. While I am on the subject of the keypad, I will say that it is very, very thin. There is a bit of a learning curve when it comes to typing on it. I guess that I could say that about any keyboard, honestly.
I found that pairing with it was simple, but even more simple is how you can switch off. There are three Bluetooth buttons, so you can toggle between your iPad, iPhone, or whatever device you have. I paired it with my Android smartphone, so it does work that way.
So that's the high points. I can't say that there are any low points. The Slim Book Pro has a holder for the Apple Pencil, and it is compatible with the mophie Power App so you know when it is time for a recharge.
Is this something that you want? Head on over to the ZAGG site and pay $149.99 for it.