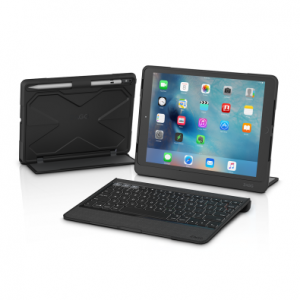 This would be the second "book pro" that I have reviewed this week specifically made for the 9.7 inch iPad Pro. I am going to attempt to write this without sounding like I am repeating myself on the Slim Book Pro.
Because of that, I will get several things out of the way. The Rugged Book Pro has a very thin keyboard with a detachable screen. I guess that was something that was unique to the Slim Book Pro, but I suppose that I was wrong. Also like the Slim Book Pro is the Apple Pencil holder, the Power App from Mophie, and the three different pairing buttons.
Okay, that is out of the way. Let us talk about that which is different. Well, it wouldn't be called Rugged if it wasn't made to withstand some serious stuff. In this case, the Rugged Book Pro has a durable silicone rubber layered throughout the case itself, and underneath that is a stainless steel frame. Also included is a rugged polycarbonate in the case, not to mention some reinforced on the corners.
So, what does this mean? You can survive a drop of six feet. This means that I would recommend the Rugged Book Pro to anyone who keeps their iPad on the road and want that type of protection. If you want to get this for yourself, head on to the ZAGG site and lay down $149.99 for it.