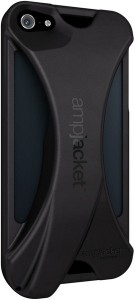 I suppose that a lot of iPhone users want to be free of the tangle of earbuds, and if you don't want to invest in a pair of wireless headphones or earbuds, you might want to just get an amplifier.
The Ampjacket from Kubxlab (I have no idea how to pronounce that) and it is a way to get some kickin' sound from your iPhone 5. All that is required is just attaching it to the back of the iPhone, like a case.
It says that it makes the sound 2X louder, and I tried it out and heard that it does make it louder. I don't know about 2X louder, as I didn't have any volume detector on me. I would say that it is good for an iPhone speaker, and for conference calls as well.
It is also quite inexpensive, at $29.95, at the main site here in many colors.