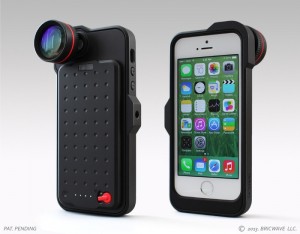 I have seen a lot of cases for the iPhone which give the user to double his or her battery life, and the Bric+ Case is another to add to the mix. This particular one is a Kickstarter project, and it has a lot of cool stuff going for it.
The Bric+ Case allows for 2.5 times more than the original battery, and it has an Li-on battery built into this protective case. This is good for providing up to 25 hours of talk time as opposed to the 10 hours of the original iPhone 5.
In addition to the battery life, the Bric+ Case has a lens that provides 3.5 optical zoom. Yes, this is something like the Olloclip, which I have reported on several times.
Well, this is a Kickstarter project, so it might take a while before it is reaches your local Wal-Mart and so. Go ahead and head over and pledge if this is up your alley.