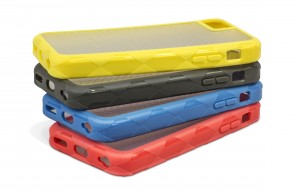 In all honesty, I don't really have much to report on. With the announcement of a new Apple product, all I can do is report on the accessories.
I figured that I would just discuss the first press release that arrived in my InBox after the big announcement. I figured it might as well be X-Doria, as I like this company. I'll start with the Defense 720 degrees which provides the usual protection from drops and scratches with a soft rubber edge. The blue, purple, and black is available for the iPhone 5/5S and Gray, Red, Blue, and Yellow for the iPhone 5C. The price is $29.99.
Others include the Rapt, which uses polycarbonate and thermoplastic products to create an interesting camo look. It is available in black/gray, blue/blue, pink/fuchsia for $24.99.
Then there is the Scene and the Scene Plus, both for $29.99. The Scene has a translucent back so it will show off the back of the iPhone. The Scene Plus has a pattern for the translucent back, which gives it 3-D sort of view.
Lastly, there is the Dash Icon which has textured fabrics and vibrant colors. You should be able to get that for about $29.99.