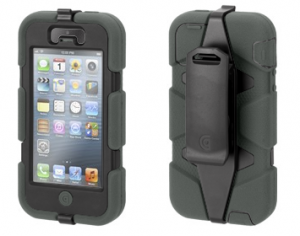 So, what can I say about the Survivor case from Griffin Technology? I would have to say that we have covered items similar to it like the ones from Otterbox.
Again, what can I say. The Survivor case can protect against the big four: Sand/dust, vibration, shock/drop, and wind/rain. Yeah, we have seen this before, and when I tried out, here's what I think.
I will say that I had a difficult time putting this case on. You have to start on this cradle thing that looks like a regular case without a screen protector. Once that is in, you will need to put on this rubberized coating that has to be put on just perfectly. I managed to get it on, but it took a little while because there were flaps that I thought were not needed. Okay, I realize that is a pretty confusing description, but let's just say that you should make certain the Survivor layers are on right to insure maximum protection.
I suppose that the multiple layers make the Survivor different from its competitors, but you do get mix and match colors for the Silicone wrap, Polycarbonate Shell, and belt clip. You will be able to get it on the Griffin Technology site for $49.99.