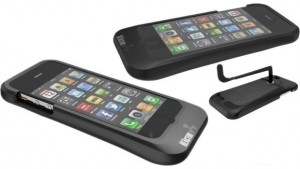 We have reported on a lot of portable batteries made for mobile phones, like the FatCat PowerBar 4200, most recently. These kinds of mobile phone batteries are a dime a dozen in their commonality.
This particular Reactor from Gridcase is essentially a hand-crank battery made for the iPhone. It fits over the iPhone like the Mophie Juice Pack, and then the handle conveniently folds into the back. You can unfold the handle when your iPhone's battery is low, and then crank it to get the juice that you need.
Just think of it as a hand-crank like an old roaring twenties car. This one has a 400 mAh battery in a 500 mAh generator. The Reactor also has an interesting feature as it will add a micro USB port to the iPhone 5, which means that you can use a more common micro USB to USB cord to charge or sync your iPhone to your computer.
The Gridcase plans on releasing the Reactor sometime in mid-November, but I'm sure there will be a new iPhone on the market by then. This is a crowdfunded project, and it wants about $350,000 in monies. You can get in on this for $99 now or $129 later on CrowdSupply here. See a video of it after the jump.