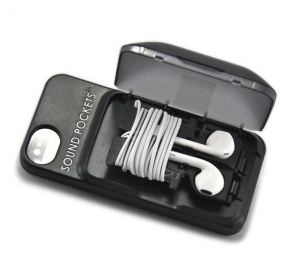 As you may know, I tend to report on products that solve a need that I never knew that I had. Such is the case of the Sound Pockets, made for the iPhone 5/5S.
In this case, it is a storage case for the earbuds that is also a case. You can see in the image how you can wind the earbuds around this special thing, and a lid opens to keep them in there. Why would you want that? Well, so you don't lose the earbuds, of course. Just to let you knkow, it has a caddy that organizes OEM Apple New EarPods and Original Apple Earbuds, and it has one for the OEM Apple In-Ear Headphones.
You should also know that the storage place for your earbuds is ergonomically good for your hand. Not only that, this lid can double as a kickstand, just in case you want to watch some video footage.
If you want to get this for the iPhone 4, iPhone 5/5S, or iPod Touch (5th "Version), it costs about $34.95. You can alternate covers and lids for all kinds of combinations, and the main company's site is right here.