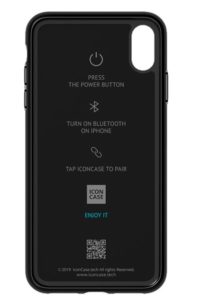 Okay, I have been meaning to review the Icon Case for quite a while, as I first saw them at CES 2019. I was instantly on board with what they were trying to do, as who wouldn't want a case that can give light-up notifications?
The answer is you, and I am pretty jacked about how it works. What you have to do is power the case on, and then pair it with the Bluetooth on your phone. Then you just tap the icon case to pair to the icon case. From there, you have a case that can interact with your iPhone for giving notifications.
For example, you will get a flashing that occurs for one second and then fades for a second, then it repeats 5 times. Something similar happens when receiving a message or any notification, and all applications are compatible with the Apple Notification Center as well as iMessage, Facebook Messenger, Skype, WhatsApp, and others.
So how does this work? The Icon Case complies with a Qi power standard, which means you can use one of those wireless chargers on it for you iPhone and Icon Case.
Now I don't have a price for this, but here is a link to the ICON Case website. The site says it is available in May, but it's a little behind if not available now, right?