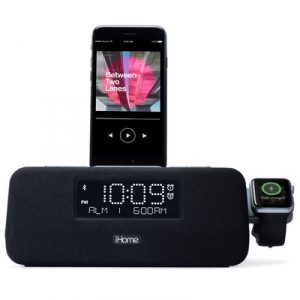 I believe that the first time that I reviewed an iHome product, it was one of their iPod docks. This is a rather antiquated product, but the iPhone and now the Apple Watch has created the need for a new kind of dock with this Bluetooth Docking Clock Radio + Triple Charging with Watch Charger (iPLWBT5).
Being an iPod/iPhone dock is not the only thing old school about this, as it definitely hearkens back to the days of alarm clock radios. Yeah, if you remember the eighties or even the nineties, then you probably have one of those things. I'll go ahead and highlight the alarm feature of dual alarms and separate wake times.
As you can see, you have the option of plugging in an iDevice and the Apple Watch. Both are set up to charge, and the iPhone/iPod cradle is set up for a Lightning charger. Oh, did I mention there is a USB charging port? Because there is one.
By the way, you can stream your audio thanks to its Bluetooth compatibility. This also works as a great speakerphone, and there is some voice control as well. I believe that the Melody Music Assistant, which seems to be some kind of new feature for all iHome products, is made for using your voice for accessing music from iHeartRadio, Spotify, or others.
As for other features, let's talk about how you can sync the clock with an iOS device. Then there is an auto dimming feature that can somehow sync with the environment. Then there is the 6 FM presets, because this is what it does.
In short, this iHome iPhone/iPod dock is really made to compliment your room, not to mention your home. It can be purchased on the iHome site for about $129.99.