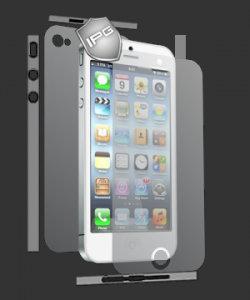 I'm not going to deny it, as the Invisible Phone Guard (IPG) is a product that others make. The one that gets the most press is probable the Invisible Shield from ZAGG, and then there is the BodyGuardz that we reported about a while ago. But I don't feel like filling up another section full of links, so let me tell you about the Invisible Phone Guard (IPG).
I had a chance to try out the one for the iPhone5, and I will have to say that the set up is similar to the previously mentioned brands. I mean, you have to get it wet, then let it dry for about 24 hours, the usual plastic shield smartphone protective schtick.
I'm not certain if these features make the IPG any different from its competitors, but it has "self-healing for your existing scratches". It is also "virtually invisible" with "anti-fingerprint". Yes, I got that from the website, and I might as well put in the "30 day money back guarantee" and "includes a free lifetime replacement warranty for the life of your device".
You can get the Full Body Maximum Coverage IPS for the iPhone 5 for about $21.99 on the IPG site. While you are there, you should check out everything else that the company is doing as well.