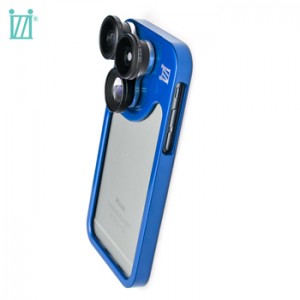 Here is another case for the iPhone 6 that I will be reviewing, and this one is the iZZi REMIX. I'm going to be honest and tell you that the iZZi REMIX is similar in function to the Olloclip, a product that I have reviewed before.
The Olloclip is a way to put lenses on your iPhone for some interesting photos. The iZZi REMIX has 5 lenses, and they are the 170 Fisheye lens, the Circular Polarizing Lens, 2 X Zoom Lens, Ultra Wide Angle Lens, and a 13 X Macro Lens. The difference between this product and the Olloclip, is that you can flick them like changing a channel on an old-school TV. You can only have three lenses on at a time, but it really rocks.
Of course, it has a case to protect, and you can peel off the lens portion if you want a little less space for your pocket. You should be able to get the iZZi REMIX for about $99.95 on the iZZi gadgets site for about $99.99.