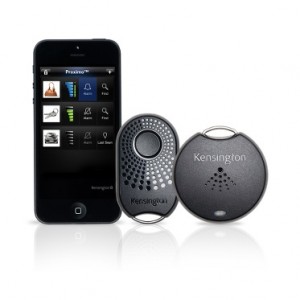 I first saw the Proximo at CTIA, but I was a little confused about how it works. I managed to get a chance to try it out, and I found it completely needed. Proximo is an App-enabled monitoring system. This means that you can take these fobs and use your iPhone to keep tabs on them.
You see the fob with the button? Say you can't find your iPhone, so you can just push a button and a sound goes off on your iPhone. Yeah, there it is.
Here is another situation. Let's say that you leave something with your fob behind, but you still have your iPhone. There will be an alert there, trust me. You can also buy additional tags to track important items. The best part, you can look at
According to the official Kensington site, a mobile phone is lost or stolen every 3.5 seconds. I think what Proximo shows us is that people need some sort of theft deterrent for their smartphone. The battery is good for about six months, and you can personalize the Fobs with customizable alarm tones.
If you want to get in on this, get over to the Kensington Site and lay down about $59.99. By the way, if you want to see more, check out this video here.