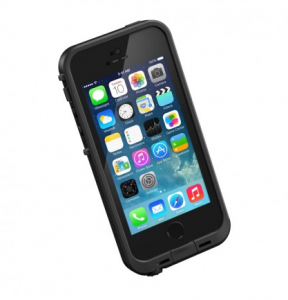 Okay, I have to be honest, as I think I may have reported on this Lifeproof product before. Yeah, I really have a hard time keeping track of these products that I am reviewing.
I have reviewed Lifeproof products before, like that cool one for the iPad Mini. If you aren't familiar with Lifeproof, they probably give the most protection as Otterbox. I'm sure I'll be reviewing more of this, but let's discuss the frē for the iPhone 5/5s.
The frē has protection for what I call the big four: Waterproof (up to 6.6 feet), Dirtproof, Snowproof, and Shockproof (good to the last 6.6 foot drop). Is one of those awesome cases that involve sealing in the iPhone 5/5S inside, and the anti-reflective optical glass lens that serves as a terrific touchscreen.
You should be able to get the LifeProof iPhone 5/5S frē case on the LifeProof site for about $79.99.