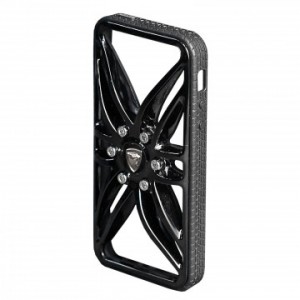 I am no stranger to EKUSA products, as I have reviewed the Dri Cat and Speak Easy from the company before. I recently got a chance to try out the Mag Cat, for the iPhone 5/5S.
I believe that the Mag Cat is designed for those car-guys. You can see that the basic frame looks like a hubcab, and you might not be able to see this, but the edges are like tires. You can feel the treads, and the ruggedness keeps the iPhone 5/5S in your hand. The small lugnuts on the back also helps.
I would have to say, after reviewing the Mag Cat, that it really gives your iPhone 5/5S a very metallic look. If this is what you are looking for, then you should head over to the EKUSA site and lay down $59.99.