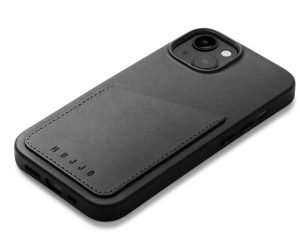 Well, as much as I like to review some really cool products from MUJJO, I was very pleased to review this particular Full Leather Wallet Case for the iPhone 14.
Of course, I have been reviewing a lot of iPhone 14 cases, and I mean a lot of them. I'm too tired to put in any links. However, I don't know any besides Nomad that have the leather thing going on.
Okay, there probably are a lot of cases that are leather, but are they vegetable-tanned Ecco leather? I'm going to say that I don't know the answer to that question. I'm told that over time, this will hat a patina unique to your use. A patina is a green or brown film over the service of it.
A lot of cases have a place to store credit cards, and this one is no exception as it holds 2 or 3 of them. In case you are wondering, it also works with wireless charging.
If you want to get a hold of this, then head on to the MUJJO site and lay down $54 for it.