Since I will be reviewing a lot of products for this holiday, I am very glad to review some great Nomad products. It feels like I have been reviewing their product for a while, and they usually make some great chargers and cables. Sometimes they combine the best of both worlds, like the Leather Charging Wallet for the iPhone. I will be reviewing both in the next few days, so I will start by reviewng the chargers and cables.
Nomad Powerpack
The Nomad PowerPack boasts an "ultra-rugged construction." Under that assertion on the box, it states, "mortise and tenon" joints. I had to look up what that was, and apparently it is a type of joint that is one of the strongest in wood-working, and apparently used in the construction of this product. It is also created with Dow Dupont polycarbonate frame and TPU rubber exterior. The construct on this product is pretty grippy, though, and it would not be easy to drop.
There is a feature on this device that I can really appreciate. I have some external battery chargers to assist in charging our family's devices on the go. The problem lies in always being able to locate them when I need them. The answer to this is an app called Tile® that works with Bluetooth tracking, and as long as you have your phone, you can ring up your Powerpack- being able to hear it from other room, or buried in a deep pocket in your backpack. If you have Apple (iOS 8.1 and up) or Android (4.4 and up), you will be able to use this app on your device.
There are two different Output ports- USB C and USB A. The USB-C charging works with high-density Panasonic li-ion cells, and makes for some fast charging. There are 3 indicator dots on the end that will tell you how much battery life is in your PowerPack. 1 dot = 1-33%; 2 dots = 34-66%; three dots = 67-100%. There is also a sensor that will detect the lighting in the room so it will dim the LEDs at night, which is a nice touch. An iPhone 7 will be able to charge 3.5 times off a fully charged pack.
The Nomad PowerPack is pricey at $119.95 on their website, but for something that has these great features- especially the ability to track and find missing devices, it could be well worth it for someone looking to charge in style on the go.
Nomad USB Hub – 3 Port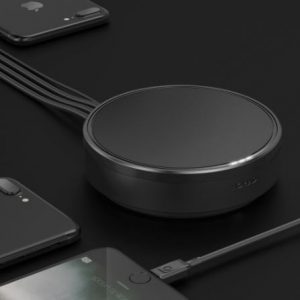 I'll start with this USB Hub – 3 Port, and yes, that is an odd name for it. However, everyone probably needs one of these.
The circular disk with soft matte rubber top and polycarbonate housing has 3 USB ports with one high output 2.1A and two standard 1 A UB ports. These ports are located underneath so you can plug in three USB devices, and then plug in the device into the wall.
Yes, it has some LED charge status indicators, with an ambient light sensor that dims the LEDs at night. I would have to say that I will applaud its handiness and how it can do three devices at once. I would love it if future versions of this device have some kind of Qi magnetic charging thing on top.
You should be able to purchase the Nomad USB Hub – 3 Port for $39.95 on the Nomad site.
Nomad Universal Cable USB-C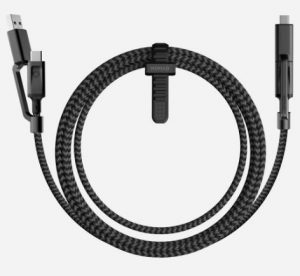 Now, the Universal Cable USB-C is quite an interesting charging cable. Each end has two types of connectors, with a USB C at both ends. I honestly don't know any reason to go USB-C to USB-C, but hey, it could be used on…something.
On one end, with the USB-C is a male USB A plug, and on the other end, also with the USB-C, is a Micro USB device. This means that if you have a micro USB device, you can charge it in many ways. What was funny is that I have a Bluetooth headset that I attached to my HTC 10 (which has a USB C port), and I believe my phone was charging my Bluetooth. I don't think I've ever done that kind of charging before.
The cable is a braided ballistic nylon cable that looks really ultra strong, and I would trust my weight with it. As a data cable, it carries a USB 2.0 data transfer, and is well-set for fast data-charging. Oh, it is quite long at 5 feet (1.5 meters).
You can get this Universal Cable USB-C for about $29.95 on the Nomad site.
Nomad Universal Cable
The Nomad Universal Cable looks to be made of the same material as the Universal Cable USB-C, but it is a lot shorter at 0.3 meters. Again, I would trust my weight on it, and it is 10K Mil-spec flex tested. I am not certain what that means, honestly.
This particular Cable has a USB A on one end, and the other is a three-part guy with a MFi Lightning tip, Micro USB, and USB Type C. You can see in the image how each port somehow can overshadow the other, which is a really good design.
It is a good deal for something that everyone needs, and it really does accomodate a lot of devices. It is billed as "one cable to rule them all", and I have to admit that it deserves its epic tagline. The Nomad Universal Cable is for sale on the Nomad site for $29.95.
Nomad Battery Cable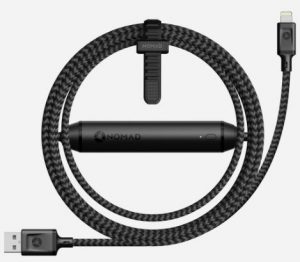 I'll talk last about another cable that I was sent to review, the Battery Cable. Unlike the other cables, this one has a 2350 mAh battery. Since this is a battery cable with a Lightning connector, that means it will give you a good charge for your iPhone 7 or iPhone 8.
As you might have guessed, the battery cable/battery is a pretty great product to have. Honestly, I usually don't see a charging device that is this small and can curl up like a little whip.
The Battery Cable is quite a great gift for the holiday at $49.95 on the Nomad site.