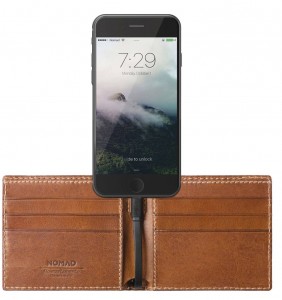 Have you ever had a product that was so useful that you almost felt guilty for spending money for it? This Nomad Leather Charging Wallet is made for charging an iPhone and holding your money, and it is that.
Nomad makes a lot of products that are just downright useful, I once reviewed three products at once, and they were all terrific to try. This particular wallet is made of leather, and I had a chance to try out the Bi-Fold wallet, which has a 2400 mAh battery.
I will have to say that the Nomad Leather Charging Wallet is thicker than a regular wallet, but it should fit in your back pocket. Now, isn't that the best place for the charger? You can see in the image how the cable is ready to attach and give your phone a good charge.
Not only is the charger good, but the leather work is official Horween. It has some fine stitching, and it has space for six cards and dollar bills as well. The Slim Fold has three cards.
You should be able to purchase the Nomad Leather Charging Wallet for about $149.95 on the Nomad site. The Slim Fold, which is one half as much of a wallet but still the same amount of battery charge, and costs $119.95.