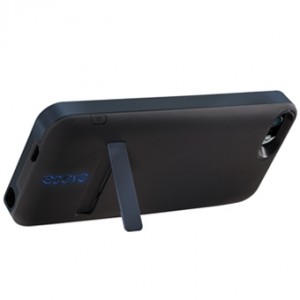 Did I mention that I was busy over the weekend? Yeah, another weekend for a writer, staying up most of the night to finish the next chapter of a book. This late morning, I woke up and found this package from Odoyo, and I don't recall ever ordering it.
The Odoyo Power + Shell EX Rechargeable Battery Case with Kickstand is a product that I have seen before, as it is a case for a mobile device (in this case, the iPhone 5) which can provide power. But just because you have seen something before, doesn't mean that it isn't good. After all, look at last summer's movies! Some were kind of decent.
Anyway, the battery is a 2200 mAh battery allows for charging of the phone. This means that you can have more talk time, video time, music time, you name it. The best part is that the case has a color-coordinated power level. Green is 66 percent full, Blue at 33-66 percent, and red is below that.
It's also cool that it has a kickstand, in case you just want to sit and watch a video or something. By the way, the included micro USB cable is good for syncing and charging.
You can get the Power + Shell EX in white or black on the Odoyo site, for a price of $99.99. You should also check out some other products from the ODOYO site as well.