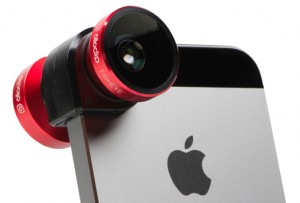 Yes, I have reviewed Olloclip products before, and the 4-in-1 lens reminds me of the Optrix PhotoProX that I reviewed a few years ago.
I'm going to try and see if I can describe this as clear as I can. You see in the picture the corner piece that fits on the corner of an iPhone? On each side of those corners is a different lens. On one side is a 10x Macro lens with 18mm focus distance. On the other side is a 15x Macro Lens with 12mm focus distance.
On each side of this corner piece is a threaded ring so you can screw on a Wide-Angle or Fisheye lens. The Wide-Angle is good for that extra field of view, and the Fisheye does that 180 degree effect for a very interesting point of view.
The best part is how easily portable it is. It has a small bag and lens cover, so it just easily goes on and off as you will need it.
Yes, it is quite simple to use, and you can get it on the Olloclip site for about $69.99. Right now, it is only available for pre-order, but it will become available sometime in November.