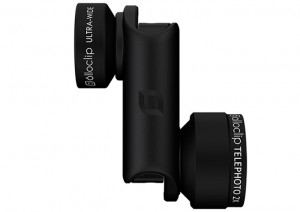 Sure, I have done a lot of reviews on Olloclip products, and I'm pretty certain that I have reviewed every product in the catalog. Today, it is the all-new Olloclip Active Lens for the iPhone 6 and the iPhone 6 Plus.
If you aren't familiar with the Olloclip, where have you been? Seriously, they are like one of the leading producers of lenses for smartphones. It used to be that you had to clip the lenses on the corner of the smartphone, but this led to them changing models all the time because smartphone models change all the time. For the iPhone 6, there were two models out with the iPhone 6 and iPhone 6 Plus, and the Olloclip models are compatible with both.
The Active lens has a Telephoto on one side and an Ultra-Wide on the other. Now, the Ultra-Wide is to give your phone an "action camera" point-of-view for things like panoramic landscapes and even widescreen FaceTime shots. The Telephoto lens has 2x optical zoom for getting closer to the action with narrower depth-of-field.
What makes this Olloclip good is that it has these wearable pendants that come in three colors which are Black, Orange, and Red. It is available on the Olloclip site for about $99.99.