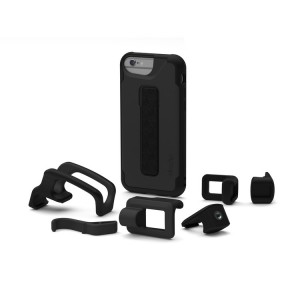 Oh yes, we are reviewing another Olloclip product today, and if you are thinking it will be another lens for the camera, you would be wrong. This particular Studio is made to help those that want to photograph with the iPhone, but in a different way.
I'm not certain if I can describe how this works, but you can see an interesting black line on the back of the case. The reason that this black line is here was for mounting stuff, and you will like what you can mount here. To mount the accessories, it is simple as putting them on and sliding them, but you can't slide them too far or they will fall off. That makes sense if you try it.
One of the things is a finger grip which allows the user to put the iPhone in between two fingers, and then film or taking pictures, switching from portrait to landscape on the fly. There also two "cold shoe adapters" allowing the user to attach some accessories like a microphone or light, and it offsets the iPhone directly along the centerline.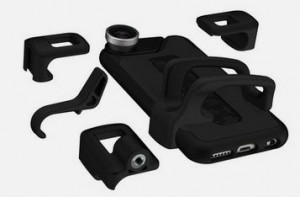 Then there are two clips designed to attach a tripod, with a threaded hole designed for that screw thing on most accessories. One of these accessories is good for portrait, and another is for landscapes. The last is a kickstand, which allows the iPhone to be used as a display for watching TV content.
I'm hoping that the other illustration that I have provided here will show how these accessories are mounted, and it really works. The two-finger one is pretty cool, and the tripod mounts are pretty great as well. You should be able to get the Olloclip Studio on the Olloclip site for $89.99.