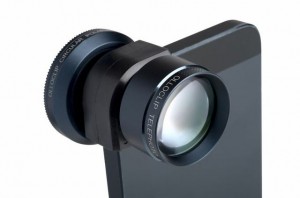 I have reviewed products from Olloclip before, such as the lens for the iPhone 5 and the Quick-Flip Case. This particular Telephoto and Circular Polarizing Lens (CPL) is a definite step up for the company.
The Telephoto and CPL lens has 2x optical magnification, and it works pretty well for that. As an added bonus, the user can easily remove the lens, flip it around, and have some lens that can reduce or remove glare. It also can be used with the Telephoto Lens as well as the Fisheye and Wide-Angle Lenses from the original Olloclip pieces.
The lens can be adjusted via Olloclip app, available on the App store. The Telephoto Lens is also made from high quality components including aircraft grade aluminum-anodized barrels.
According to Olloclip, this Telephoto + Circular Polarizing Lens is available for "pre-order", but it won't be available until the end of July. So I would think this is available about now for about $99.99. Check it out here if you are interested.