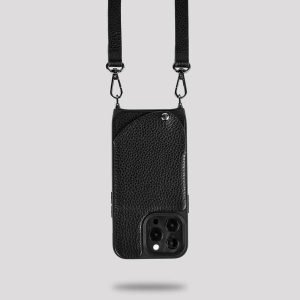 I have to say that when it comes to cases, it really feels that some of them are more fashionable than others. I have no idea if Noemie is a major name in fashion, but I have noticed a similar site that sells jewelry that I have discovered is not related to this particular case company, so I'm told.
The Noemie leather cross body case creates a case that turns the smartphone into a purse. Considering that many keep our credit/debit cards in our smartphone case, it certainly as functional as it is a fashion statement. By the way, this Noemie Napa Wallet can hold four cards.
You will notice that the Noemie case comes with a strap, and it hooks up to it so you can shoulder your phone. It is a type of style that we have seen before, but Noemie makes it pretty… stylish.
If this is something you want, you can purchas it on the Noemie site for $79.99.