Ah, Catalyst, you really produce some seriously great products, as we have just recently reviewed last summer. With the new iPhone 13 coming out, and requiring an entirely new case, Catalyst has risen to the occasion with the Vibe and Influence Cases for the new iPhones.
Catalyst Vibe Case for the iPhone 13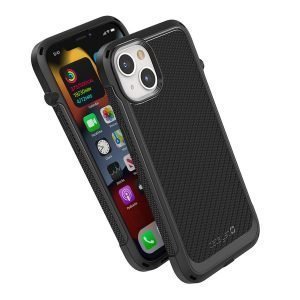 The last time I reported on Catalyst products, I talked about how they make some great waterproof cases. Today, I am going to talk about the Vibe, which is a case that gives basic protection.
In fact, I am told that it gives 2.5 times higher drop protection, which is quite something, isn't it? I have no idea how the company managed to get it so the iPhone 13 can withstand the drop of 10 feet, but they did.
Oh, I also learned about this little fact. The Vibe is able to product 30 percent louder sound with the forward audio. Again, I have no idea how Catalyst did it, and honestly, I forgot that forward sound was an issue with cases.
In addition to these features, there is an instant mute button as well as MagSafe compatibility. If this interests you, it is available in Stealth Black and Battleship Gray for $49.95 on the Catalyst site. (At the time of this writing, the Vibe case is only available for pre-order but should show up at the beginning of October.)
Catalyst Influence Case for the iPhone 13 Pro Max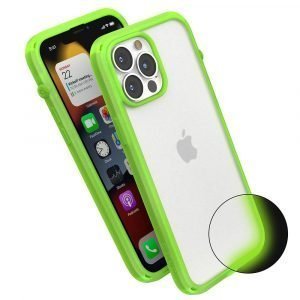 Now, the Influence Case is very different from the Vibe, as it has this translucent back with a border. I was fortunate enough to receive the version for the iPhone Pro Max, and we were able to verify that it does glow in the dark (see demonstration in the video below).
Besides that, the specs and features for the Influence are almost identical to the Vibe, as it has 2.5X Higher Drop Protection as well as 30 percent louder sound with unique forward audio. It also has that nice Magsafe wireless charging option and Instant Mute Switch.
Apparently, the back of the case is intended to protect from fingerprints. There is also this thing about four corner attachments to make the phone compatible with Catalyst's Crux Gear line. I'm seriously going to have to look into that.
In the meantime, if you want to purchase the Influence case, then get it on the Catalyst site for $39.99.
Before I jump to the video, I will let you know that we also reviewed the Tempered Glass Screen Protector for the iPhone 13/13 Pro as well. You can find that on the Catalyst site for a price of $39.99.